Eddie Bulls Bites Cookie Dough (quantities of 6)
bites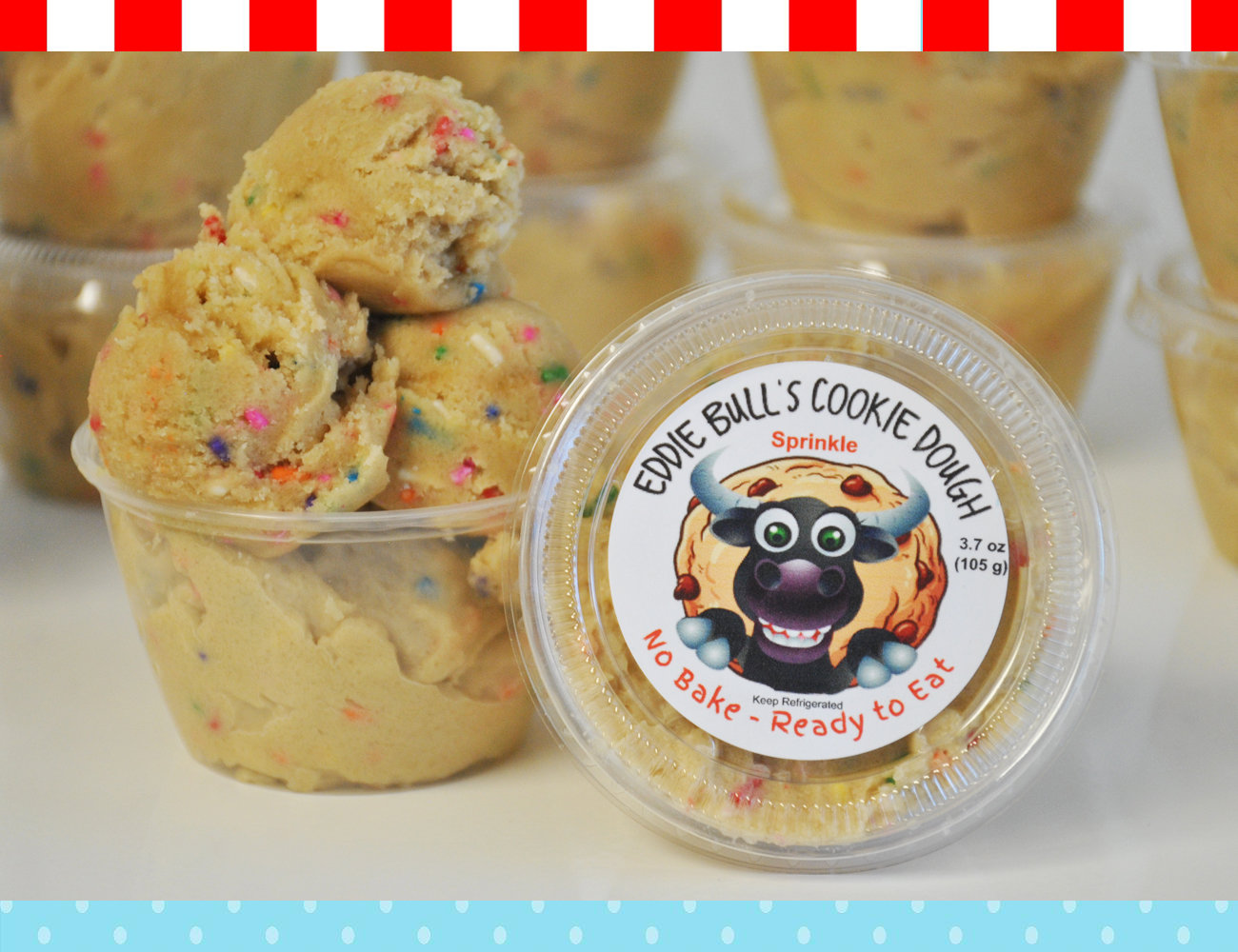 Create your own mix of yummy Eddie Bulls Bites Cookie Dough to go! Minimum order is 24. Each flavor minimum order is 6.
Cookie Dough Flavors:
Chocolate Chip: Hello edible cookie dough! Pick up a cold glass of milk and enjoy this classic cookie dough flavor in a whole new way.
Mint Chocolate Chip: Satisfy your chocolate chip craving with a refreshing taste.

Nutella Swirl: Layers of sweet cookie dough twisted and swirled with hazelnut. You can expect an incredi-BULL nutty-chocolately taste.
Peanut Butter: Cookie dough and peanut butter collide in this creamy concoction that'll keep you satisfied. Yummy!
Sprinkles: A Creamy rainbow infused dough that tells a colorful magical tale to your taste buds.

M&M: Naked dough with MINI M&M's mixed in. This dough is made to Melt in your Mouth and not in Your Oven".
Salted Caramel: Salted Pretzels mixed with Caramel and our naked dough to give that SWEET and SALTY taste.
Brownie Swirl: The second best thing to Edible Cookie Dough is Edible Brownie Batter. We have created and combined the 2 of them to give you that OMG, Explosion in your Mouth taste.
Seasonal
Pumpkin: Pair this cookie dough with a scoop of vanilla ice cream and you've just turned this fall classic into a heartwarming nostalgia.
Cranberry Oatmeal White Chocolate: Not your typical oatmeal cookies. It's so easy to "fall back" and enjoy this Christmas cookie dough favorite with friends.
GLUTEN FREE
Just because you have an issue with Gluten doesn't mean you can't enjoy Eddie Bull's Cookie Dough like everyone else. Our Gluten Free options are made so EVERYONE can "Lick The SPOON!"
Chocolate Chip

Sprinkle
additional quantities (qty x6)